Fire Angel
Benini, 2018
17" x 15"

Private Collection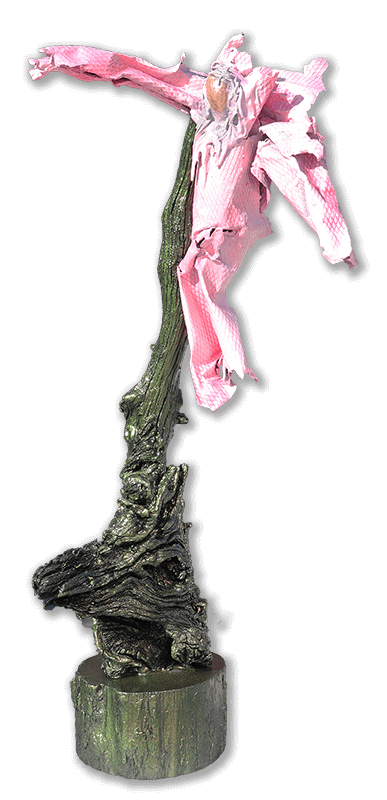 Do I Stay or Do I Go.....
Susanna and the Elders
An addition to the story of Daniel in the Bible yielded the tale of Susanna and the Elders, which has been the inspiration for more than 130 paintings through the ages, including those of Tintoretto, Rubens, Artemesia Gentileschi, Rembrandt, Tiepolo, Picasso, Thomas Hart Benton, Veronese and more….
A Flemish ivory by Bossuit is now in the Getty Museum, a bar relief at the Basilica de Notre dame in Lyon represents three stages of this narrative, the Pitti Palace displays an ivory sculpture of Susanna, yet three-dimensional depictions are rare.
Susanna went to the gardens with her maidens, but asked them to leave her alone to bathe. Unbeknownst to her, two elders, also judges, spied on her and conspired together to approach her. When she rebuffed their advances, they decided to have her tried for adultery, a crime punishable by death.
They testified that she sent her maidens away to meet her lover who was hiding in the gardens. Susanna was about to be executed when a lone voice spoke out cautioning to be certain an innocent was not being sentenced, stating the accusers needed to be questioned as well. When asked separately, under which tree did this act of fornication occur, one said the mastic, the other the holm, revealing the accusation to be false, and Susanna was freed.The lecherous judges were put to death instead. The wise voice was that of Daniel.
Devil's Backbone Rock, Florida root driftwood, aluminum, pigments
The Peacemaker
Benini 2014
40" tall
Aluminum and pigments
The Scream
Benini 2014
27" tall
Aluminum and pigments, marble base
Private Collection, Texas
Poet's Dream
Benini 2012
14" x 28"
Tall, Wood, Pigment, Sagebrush, Glass, Devils' Backbone Rock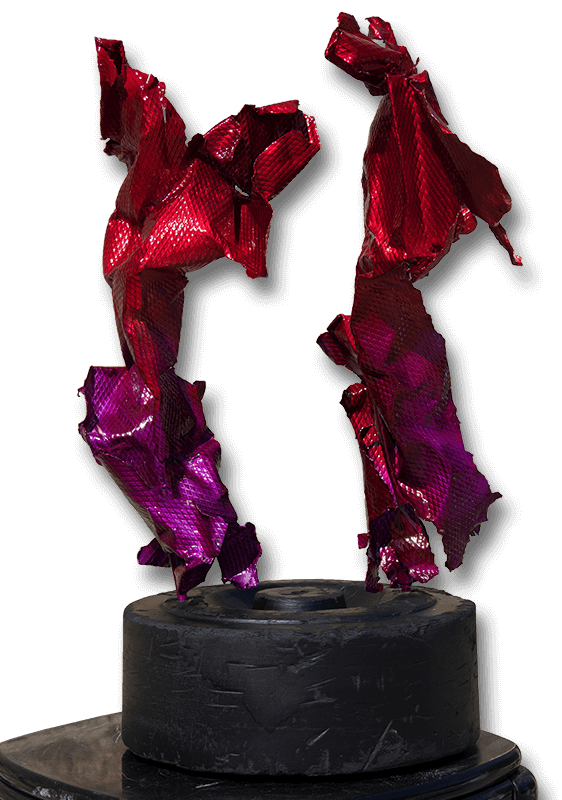 Two Steps
Benini 2014
20" tall
Aluminum and pigments, Antique Foundry Mold
Art and Heart
Benini 2013
38" tall
Aluminum, pigments and wood
Private Collection

Pala Cinque
Benini, 2014
27" tall
Acrylics on Wood, Antique Foundry Mold
On the Edge
Benini 2013
24" tall
Aluminum, pigments and quartz base
 
Ascension
Benini 2013
32" tall, 34" wide
Stainless Steel, Wood, Marble base
Private Collection, California
Law and Order
Benini 2013
27" tall
Private Collection, California
The Stars Giver
Benini 2012
30" tall x 28" wide
Steel
Private Collection
Dance, Ballerina, Dance
Benini 2012
24" tall
Aluminum and Pigments
Private Collection, Canada
Empress's Clothier
Benini 2012
26" tall
Aluminum, pigments and Antique Foundry Mold
Galaxy Blue
Benini 2012
32" tall,
Aluminum and Pigments
Dawn
Benini 2012
26" tall
Driftwood, Graphite Pigments, Aluminum
Only the Lips
Benini 2012
28" tall (to feathers, 52")
Aluminum, Pigments, and Peacock, Feathers
Night Wind
Benini 2012
26"
Aluminum, Pigments, Driftwood and Ceramics
Private Collection, Texas
DIVERTIMENTI
SMALL ASSEMBLAGES